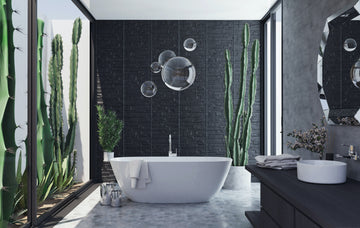 The previous article has introduced some basic types of bathtubs and materials, which should already be of great help in selecting the right bathtub, but of course, there are some common questions and tips for bathtubs, which will be introduced in this article.
Some Comom Questions
Can I paint my bathtub?
The finish and color of ceramic, porcelain or acrylic bathtubs can be refreshed by using special kits labeled for bathtubs and tiles. Standard interior paints will crack and flake when exposed to the heat and moisture of a bathtub. The bathtub/tile paint kit will include an epoxy-based system that will have excellent adhesion and long-lasting durability once cured. A one quart kit should be sufficient to cover the tub.
Following the instructions and properly caring for a painted tub will produce a durable finish that will last approximately 3 to 5 years.
Can a bathtub be resurfaced?
Bathtub resurfacing can rejuvenate the surface of a bathtub without having to replace the entire unit. The resurfacing process can be performed on a wide variety of bathtub surfaces, including porcelain, marble and fiberglass. Fixture resurfacing is accomplished by removing the remaining finish from the tub and then adding a new layer of material to reseal the old, damaged surface.
Tub resurfacing renews the appearance of the tub, making it easier to clean and gaining more years of life.
Can bathtubs be repaired?
There are various types of bathtubs that can be repaired. This includes most porcelain bathtubs and those made of artificial marble, acrylic and fiberglass. Fixtures can be damaged during transport and during installation. If you accidentally drop a sharp or heavy object into the tub or onto the lip of the tub, it can shatter or break the tub. Small chips and scratches can often be repaired, which is more economical than replacing the entire tub.
Bathtub repairs can be done by skilled professionals who have the proper materials and tools to sand and fill the defect and apply a waterproof coating that blends in with the rest of the surface, making the repair undetectable. Alternatively, you can purchase a repair or refinishing kit to make it a DIY project.
Can bathtubs be reglazed?
Technically, bathtubs cannot be reglazed because glazing is a process that requires heating clay, a component of porcelain, at very high temperatures in a kiln. However, porcelain bathtubs can be refinished with a high-gloss material that resembles the original glaze in look and feel.
A common reglazing process involves thoroughly cleaning the surface of the tub with a specially formulated two-step cleaner to remove soap scum, mineral deposits and oils. Next, all cracks and chips are repaired. A bonding agent is applied followed by a durable topcoat, which is usually an acrylic resin. This is a cost-effective method for restoring old bathtubs.
Can bathtubs be recycled?
Bathtubs are not easily recycled. Cast iron bathtubs may be of interest to some metal scrapyards or foundries. Steel is one of the easiest materials to recycle. However, removing the enamel finish requires some work, which may not be worth it for some recyclers.
Acrylic tubs are something that may not be as easy to recycle. Acrylic is not biodegradable and does not break down well in landfills. Perhaps a better word than recycling is repurposing.
Some Tips For You When Buying a Bathtub
When shopping for a new tub, consider the primary use of the tub. For example, an oversized corner bathtub with a combination of whirlpool and air jets would be the best choice for a master suite bathroom, and some very high floor bathrooms should consider a lighter tub material. And the primary use and user of the tub should guide your choice of model, size, material and additional features.

Next, consider the available space. When replacing an existing tub, you need to match the size, shape and water connections of the previous tub. Some models, such as freestanding tubs, may require more floor space than others.

You'll also want to consider the longevity and maintenance of your bathtub, especially when it comes to choosing materials. You'll likely have to balance this aspect with your budget, as the most durable tubs also tend to be more expensive. Fiberglass bathtubs, for example, tend to be the most affordable, but they lack the durability of solid surface bathtubs. Copper and stone resin bathtubs are in a similar price range, but copper bathtubs require more material-specific care and maintenance.

Finally, the decorating style of your home and bathroom should also be a factor in your decision.