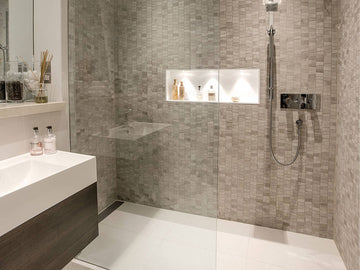 We have introduced the respective features of wet rooms and walk-in showers in a separate article before, including the advantages and disadvantages, commonalities and differences between the two, etc. After reading the previous article there may be many people who find a wet room perfect for their bathroom or like it so much that they want to make one. This article will provide some reference and guidelines on how to make a wet room.
Installing a wet room is a very modern and stylish way to remodel your bathroom. Not only does it provide a freer showering experience by removing a narrow shower enclosure, it also frees up more space to incorporate more design and is often easier to clean.
In the past, wet rooms were considered only suitable for ground floor bathrooms with solid concrete floors, but advances with modern technology mean that almost any bathroom can be converted into a wet room by installing a waterproof subfloor. But the installation of a wet room is best left to the professionals, as the drainage or waterproofing aspect is key to wet rooms and any mistakes can be disastrous and costly. Therefore each wet room design requires careful consideration of structure, safety and cost . Before creating a wet room, see our advice on all the things you should consider.  
Factors to consider before installing a wet room
PLAN THOROUGHLY
It is easy to underestimate the work involved in the planning and installation of a wet room. Because the overall design of these spaces is usually very minimalist, most people think they are easy to create. But as a major project with various steps, creating a wet room is not an easy task. As mentioned above, especially when it comes to drainage and waterproofing, so it's a smart move to leave it to the professionals.
The first step in achieving a new wet room then is to establish a clear concept of the space. Any size bathroom can be converted into a wet room, but if your bathroom is on the small side, you'll need to consider protecting your toilet paper, toiletries, towels, etc. from spills, so we recommend installing a glass partition. (Of course you can also use a shower curtain or other means.) In addition, you should evaluate the location of the shower area and the items you will need to acquire in this location. Then there are additional features like flooring, tile or other fancy aspects that need to be considered, such as floor heating. If you can, make a list and sketch of what you will need and the space you will need for your wet room.
SLOPING / DRAINAGE & WATERPROOFING
Drainage is absolutely paramount for wet rooms, where the floor must be sloped slightly toward the drainage point so that all water is directed to the drain to keep the space clean and free of water damage. All wastewater needs to be able to drain out of the room through the drainage pipes, and this must be taken into account. If the plumbing in the existing space does not allow for this, you will need to hire a plumber to ensure that the correct plumbing is installed in the wet room.

Waterproofing is just as important as drainage is for wet rooms. The entire room needs to be waterproofed because even though some areas will have more water than others, you are not separating the wet and dry areas as you would in a regular bathroom. The walls around the shower area and the lower part of the walls in the rest of the wet room also need to be waterproofed. 
TILES
One of the most impressive features of wet rooms is usually the superb tile accents that can be seen on the floors and walls. If you plan to tile large areas in your wet room, you can use inexpensive tiles for most of your work and opt for more luxurious tiles as accents and centerpieces. By doing this, you can benefit from saving money when creating a wet room and still achieve a sophisticated wall tile style. When choosing tile, it's best to go with non-porous porcelain or ceramic tile or vinyl plank, and on top of that, choose tiles that are known for their durability and ease of cleaning. Of course there are also options for stone tiles and wood, such as marble and granite, which need to be constantly resealed every few months to keep them waterproof.
HEATING
Underfloor heating is a good choice for any type of wet room. This is because these spaces can get quite cold in the winter due to their open spaces and the presence of tiles. As with traditional bathrooms, you can choose from a range of different heating solutions for wet rooms. From underfloor heating to heated traditional towel rails, there are many options depending on your budget. If the space is small, installing underfloor heating is often the best option because you can extend your existing radiator system to add a new underfloor heating circuit. Alternatively, if you have a larger wet room, you can install additional new radiators or heated towel racks, as you may need an extra heating power. 
CHOOSING THE RIGHT SHOWER AREA
From the shower base to the shower drain, you need to plan for all areas when choosing a shower area for your wet room. The shower area will be the main focal point of your new wet room, but there are some technical points to consider, such as drainage points, shower space, tank kit, slope of the floor, etc.
It is best to take precise measurements of your wet room and carefully consider the best location for the shower. While there are many great wet room ideas to draw from, the most important thing to consider is also the practicality of your home.
VENTILATION
Effective ventilation is key to installing any bathroom due to the amount of extra moisture in the air. Your goal should be to install an extraction system to help pull the moisture out of the room and out the door.
Wet room design concept
Light and bright shades can help make your wet room space look larger. Wall and colorful accessories can add warmth and softness to your wet room space.
The paint color you choose for a wet room can have a big impact, not only on the appearance of your bathroom, but also on your mood. A striking orange or blue color is often the perfect design for a bold and bold statement.
Houseplants are a great way to liven up a space and can help absorb excess moisture and prevent mold buildup. They can also help improve the air quality in your bathroom. A rug can still be used in a humid room, but it should be kept away from the shower drain on the floor. In addition to this, you can add shelves to the wall that fold up for storage and display of decorative items such as flowers.