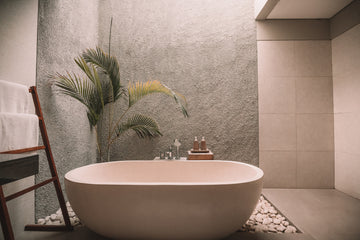 The previous article introduced you to several basic types of bathtubs, different types of bathtubs will adapt to a variety of different needs and likes, and likewise, the material of the bathtub. The choice for the material of bathtub is often related to your family members, budget, the service life of the bathtub, flooring, etc. This article will introduce some materials of the bathtub, including their characteristics to provide some tips for your choice.

Cast Iron Bathtubs
Families with small children should consider a cast iron bathtub because it is virtually indestructible and can withstand a lot of "abuse" from kids. Cast iron bathtubs are coated with veneer porcelain enamel, which gives them a smooth surface. Cleaning the tub is easily accomplished using a soft sponge cloth, followed by rinsing. A strong foundation for a cast iron bathtub is very important because the tub is undulating and even more so when filled with water.
Porcelain-Enameled Bathtubs
Several layers of enamel or porcelain are used to coat bathtubs originally designed in steel. Since steel bathtubs are lighter than cast iron, the installation process is easier and takes less time to complete. If the tub is properly cleaned and dried after use, the luster of the enamel will always show through. The negative side of these bathtubs is that this material is prone to chipping and cracking over time. When steel is exposed, rust becomes visible.
—— Porcelain-enameled cast iron or steel. Both porcelain-enameled cast iron and porcelain-enameled steel bathtubs are metal-based bathtubs that are coated with a thick layer of porcelain enamel. Porcelain enamel makes these bathtubs very durable; they resist chips, scratches and dents. They maintain a shiny finish that resists most common household chemicals, making them easy to clean. The cast iron or steel layer helps the tub retain heat better than acrylic or fiberglass tubs. Cast iron, for example, is heavy and requires additional floor support and professional installation.
Acrylic Bathtubs
Many bathtubs are made of vacuum-formed acrylic layers over molded fiberglass sheets. These acrylic bathtubs are lightweight, easy to install, easy to clean, and available in many shapes, styles and colors. They have a high gloss finish that is smooth and reflects light well. The luster will last for years and is smooth to the touch. Though acrylic is less resistant to scratch than enamel or porcelain and the finish can scratch and discolor, modern finishes greatly diminish this possibility and can be easily repaired to look new again. Acrylic is strong and durable. Whirlpool tub and spa manufacturers use acrylic extensively not only because it is strong and durable, but also because it is easy to handle and versatile. If well maintained, acrylic bathtubs can last up to 15 years. With its moderate price, acrylic bathtubs are a well-rounded choice and the most popular bathtub material for homeowners.
—— When deciding whether a porcelain-enameled cast iron bathtub or an acrylic bathtub is better for your bathroom, consider your budget and the life expectancy you expect from your tub. Cast iron bathtubs require less maintenance and are a better long-term investment for your home, but acrylic tubs are less expensive initially and are reliable tubs if you plan to move or renovate your bathroom in any way by the end of their 10 to 15-year lifespan. 
Fiberglass Bathtubs
Fiberglass bathtubs are composed of a molded fiberglass sheet and a top layer of smooth and shiny material called "gel coat". Underneath the fiberglass is a reinforced polyester material that gives it strength. Compared to acrylic or enamel, the gelcoat material is relatively light, making it easy to work and maneuver in tight spaces. For its weight, it is durable, strong and flexible.  If properly maintained and cleaned, gelcoat fiberglass bathtubs should retain their color and luster for many years. Because gelcoat is more porous than acrylic, water can seep in and show stains if the tub is not properly maintained and cared for. The finish of these tubs is susceptible to scratches, cracks and fading, but is also repairable. Fiberglass may feel thin and can bend or crack under excessive pressure. 
—— Fiberglass bathtubs are an economical choice, since they are low-cost and are easily installed.
Composite Bathtubs
When two or more materials are combined together to create a superior and unique material, the outcome is a composite product. In the quest to produce lightweight materials, combinations of plastics, resins and carbon fibers are used to create composite materials. Stone resins and cast stone are among the more common ones. The end result is a composite bathtub that is less than half the weight of a cast iron bathtub. As a result, it's ideal for high-floor bathrooms. For aesthetic reasons, the finished product has a smooth and glossy surface and is covered with enamel. Again, like all bathtubs, careful maintenance and cleaning cannot be overlooked in order to maintain its shiny and smooth surface and avoid cracks or chips.
Solid Surface Bathtubs(One Special Composite Bathtub)
To achieve a solid surface bathtub, real stone blocks and pieces are assembled under a crusher and liquid polyester resin is added to them for strength and durability. Solid surface bathtubs have similar qualities to quartz, a hard, white or colorless mineral found in certain rocks. A gel coat is also added to it in order to produce a smooth and strong surface.
Bathtubs of almost any shape or size can be created by molding or casting, creating a seamless one-piece surface that looks stylish. Solid surface bathtubs are non-porous, hygienic, and mold resistant. Abrasive cleaning solutions, hair dyes and products containing heavy metals should be avoided in solid surface bathtubs. Solid surfaces are also recyclable, making them an eco-friendly material choice. Because of their manufacturing process, solid surface bathtubs tend to be more expensive than those made of other materials. 
Copper Bathtubs
Copper bathtubs have an attractive appearance and will get better over time. This is because copper oxidizes and forms a patina over time, resulting in the multi-colored finish that is characteristic of copper. This "living finish" also helps heal scratches and scuffs on its surface without requiring any effort on your part. If you are happy with the current appearance of your copper tub, you can seal it with a clear lacquer or use a conventional wax coating to slow the continued oxidation of the patina.
—— Copper bathtubs are also durable, rust resistant, mold resistant and antibacterial. However, acids and abrasives can damage its surface. Like solid surface bathtubs, copper is recyclable and usually more expensive than other materials, but it has the longest life of any bathtub material.
Specialty Wood Bathtubs
Wood bathtubs come in a variety of shapes, round, oval and oblong, with the last shape being more common. The preferred wood is Western Cedar because of its wood grain beauty and durability. Wood bathtubs hold warm water longer than other types of materials, such as enamel, acrylic and marble. 
—— But wood bathtubs must always be partially filled with water to prevent the wood from wrapping or shrinking, as this will cause water to leak.
Hope that after reading this article, you have a clearer understanding of the various materials used in bathtubs, and can help you choose the bathtub material that meets your requirements.