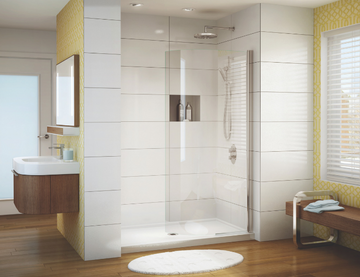 Just as sleek and modern walk-in showers and wet rooms have become one of the popular choices for modern bathroom decor or renovation, they can add a different element to your home that a traditional bathtub bathroom can't. And while in the previous article we covered wet rooms, then this article will cover walk-in showers, including the similarities and differences between them.
What is a walk-in shower?
A walk-in shower, like a wet room, does not have a door like a traditional shower. In its place, a glass panel separates the shower area from the rest of the bathroom. A walk-in shower usually consists of one or two narrow framed or frameless glass screens that fit into a rectangular, low shower tray. Frameless glass panels can either be fixed to the wall or used in walk-through designs, where they are fixed parallel to the wall by rods attached to the ceiling or facing the wall.
Walk-in showers come in a variety of styles and sizes, giving the bathroom a modern, seamless feel while providing a practical showering solution. They can be installed in an alcove so that there is only one glass panel, or with two glass panels, and with or without a shower tray. Thus walk-in showers give you the opportunity to create the look and feel of a wet room without the costly effort of waterproofing all spaces such as floors and walls.
Similarities and Differences
As mentioned above, walk-in showers and wet rooms both ditch the door design of traditional showers, and both wet rooms and walk-in showers offer great alternatives to simple bathtubs because of the convenience and style they offer. Both designs will help create a personalized style within a bathroom or suite.
The main difference between wet rooms and walk-in showers is also very simple. A wet room is usually a completely open space, although most people will also have a shower screen to reduce spray in the bathroom and prevent splashing, by changing the floor to allow water to run through a drain in the floor. Walk-in showers, on the other hand, are different simply because they usually contain a low-profile shower tray and a glass screen or two. And of course there is the fact that walk-in showers don't have to waterproof all the spaces like floors and walls like wet rooms do.
Installation Type
There are three main types available, equally suitable for walk-in showers and wet rooms, including recessed, corner and floating.
Recessed - Ideal for recessed areas and a great alternative to a bathtub. This type features a single glass screen that can be installed with left or right side entry. Glass screens are available in a variety of profiles and handrail finishes, and the arms can be mounted on the wall or ceiling.
Corner - Suitable for installation in any corner of the bathroom and can replace a standard shower, such as a quadrant. This type has two glass screens in a range of profile and bracket finishes, and the bracket can be mounted on the wall or ceiling.
Floating - creates a very sleek, modern look and allows access on either side. This type features a single glass panel and floor-to-ceiling rods.
Final Tips
The large glass area of a walk-in shower can mean a lot of cleaning, but glass panels with an easy-clean coating help prevent soap scum from building up and sticking to the glass.


Framed glass panes with chrome edges are ideal for homes with small children, as the edges are slightly blunter. For a truly seamless look, opt for a frameless screen - this will have a beveled safety edge.