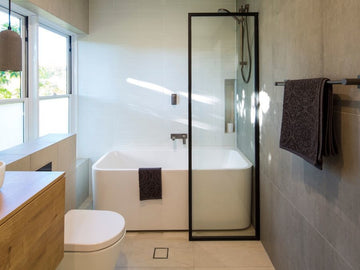 In the previous articles, we introduced some knowledge of bathtubs, including the basic types of bathtubs, materials of bathtubs, tips for buying and using bathtubs, etc. We believe that you have a further understanding of bathtubs. Although many people now shower more often than bathe, and due to the limited space in the home bathroom or economic conditions, there is no way to create the space needed to support the placement of a shower and a bathtub respectively, but it is very unwilling to give up a large bathtub that can make you feel refreshed which makes you hesitate between the choice of bathtub and shower. This is where a shower bath is the perfect solution, as you don't have to give up one or the other, as it brings the best of both worlds while taking up less space. And shower over bath is also a popular design choice for modern bathrooms, and there are many of them on the market for sale as a combination product, or of course you can do your own DIY and remodel a shower bath.
WHAT IS A SHOWER BATH?
A shower bath set is basically a shower head mounted on top of a bathtub. Due to the popularity of shower bath sets, there are many sizes, shapes and styles available to suit your unique view of bathroom set design.
Many straight baths can have a shower mounted on top, which means you can give your old tub a DIY makeover into a shower over bath in your own home. But shower bath is specifically designed to create the ideal combination of the shower and bath. There are many different styles on the market today to choose from, but they are generally P or L shaped with extra space and a shower screen on one end.
With a shower bath, depending on your mood, you can enjoy a long relaxing soak, or a quick rinse. This means you have a relaxing and luxurious bathtub with a spacious and functional shower area as well. Of course, shower bath shouldn't just be considered a compromise. They are also an elegant and intuitive way to organize your bathroom.
COMMON STYLES OF SHOWER BATH
P shaped shower baths
A P-shaped shower bath has a curved section at the shower end with a matching curved screen to keep water off the bathroom floor, providing additional shower space for more arm space in the shower, and an elegant look. And you have the option of installing a convenient towel rail on the screen. The curved divider is fixed to the tub and has an understated, minimalist quality.
L shaped shower baths
L shaped shower baths feature straight edges and extra grab bar space at one end of the shower for a sleek and modern look. The wider shower area also features a straight edge with a matching shower screen. the L shaped shower bath unit is well suited to modern bathroom furniture décor because of its geometric contours and contemporary aesthetic.

The appeal of the L shaped shower bath is similar to that of the P shaped shower bath: extra space at the shower end of the tub allows for unrestricted movement and a more comfortable showering experience.
Straight shower baths
If lack of space is a major consideration, the easiest and perfect option is to install an upright shower bath with a screen. This is also a most common style for DIY.
And by placing it in an alcove position, it is more able to make the most of the space.
 Freestanding shower baths
If your personal design views lean towards a traditional look with a contemporary feel, or if you have more advanced needs, then a freestanding bathtub with a showerhead would be ideal for your bathroom. Note that with a freestanding shower bath you will need to take extra measures to prevent the water from the shower from spraying out of the bathroom, as you do not have the screens of the previous styles of shower baths. One design trick is to install a curved track in the ceiling above the freestanding bathtub and hang the shower curtain there.
SOME IDEAS TO ENHANCE A SHOWER BATH
It may be worth your while to have a textured grip mat to stick to the tub in the shower so that you can reduce the risk of slipping while upright. Some shower tubs also have a textured floor surface at the shower end for this reason.
Installing a shower over bath in no way requires you to sacrifice a sense of enclosed privacy, you can install frosted screens or opaque shower curtains, etc.
For a modern look, you can hide any plumbing for a clean, minimalist décor. One way to really complement this is to opt for a rainfall shower fixed to the ceiling and chrome wall-mounted controls. Alternatively, the traditional approach can be achieved by exposing the plumbing; visible brass and copper piping is a feature of Victorian-style bathrooms and brings a touch of antiquity when installed over a claw-foot freestanding bathtub.
Always measure your space before choosing a bathtub, or if you are replacing an existing one. Keep in mind that shower bath usually have a wider section, which may add about 100 mm to the required width.