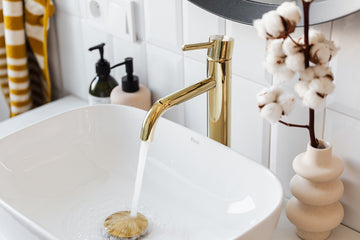 This article will take you through the details of sink types and reveal every waste design including click clack, flip top, pop-up, and the classic plug and chain option. Let's go.
What is a sink Waste?
A sink waste is a channel designed to enable water in your sink to run off safely, regardless of the sinks design. The sink waste will also allow you to block the pipes of your sink, allowing it to fill up with water.
What Is a sink Overflow?
A sink overflow is a small hole located near the rim of the sink that enables water to be drained away if the sink begins to get too full. This is designed to stop you flooding your bathroom if you accidentally leave the tap on. Not every sink will have an overflow so this will affect which you choose.
Slotted Or Unslotted sink Waste?
If your sink has an overflow you will need a slotted sink waste. If your sink doesn't have an overflow, you will need to install an unslotted sink waste. An unslotted sink waste is watertight, so it won't allow any water which has gone into the overflow back into the waste pipe. Slotted wastes will allow overflow water to be drained, whether the waste is open or not.
Often, you will see bathroom sinks featuring an overflow whereas kitchen sinks and other sinks do not offer an overflow. Selecting the wrong sink waste can cause irreparable damage to your sink so it is crucial you correctly determine the type needed. It can also leave you at serious risk of flooding in a moment of oversight by anyone using your sink.
Types Of sink Waste
There's quite a few different types of sink waste available to you. Each will be familiar and each has unique styling and functional properties that justify their availability to bathroom renovators.
Click Clack
Arguably the most popular sink waste style currently available, the click clack sink waste has many names; clicker, push button and sprung plug waste to name a few. Click clacks, are as useful as their name is memorable. Simply push down the stopper once to close the click clack, and push again to open once more. Stand-out click clack wastes at Drench include the Crosswater Odour-Free Unslotted Click Clack sink Waste, which at just £49.00 is made from solid brass with a proven sealed design preventing nasty smells coming back up through your waste.
Flip Top
Next up, the flip top sink waste. In these designs you will note there is a disc-shaped stopper that is rotated, flipped or otherwise repositioned to either completely seal or reveal the drain. The flip top is a highly fashionable sink waste option as it can be incorporated easily into modern, minimalist bathrooms.
Pop-Up
Pop-up sink wastes make use of a waste lever. You pull or push on the lever to raise or lower the stopper – it's as simple as that.
Plug and Chain
This option doesn't require too detailed an explanation  and is no doubt the type of sink waste with which you are most familiar. The plug and chain has for centuries and remains to be a staple amongst entry-level bathrooms. However, it is seeing a resurgence across many deluxe, modern set-ups thanks to its nostalgic appeal and ease of function.
Free Flow
If you go free flow, you are keeping your sink waste pipe permanently open. Simple, direct – enjoy powerfully simple draining with a free flow sink waste, perhaps the most user-friendly of all waste systems.