knowledge sharing
Bathroom Types - Based On Four Plumbing Fixtures
by LucasAlbert on Jun 23, 2021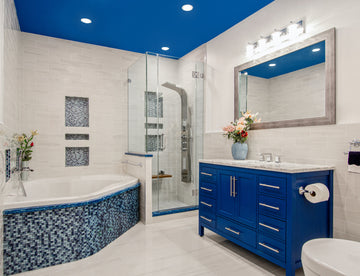 In the United States, there is a lack of a clear and uniform definition of bathroom types, so this often results in a difference between the number of bathrooms advertised in real estate listings and the number of bathrooms the user thinks they actually have after purchasing.
This is why it is important to know the types of bathroom when buying, selling, building or remodeling a home. Because bathroom types inform the homebuyers whether the home will comfortably accommodate their large family - for example a family of six would ideally need two full bathrooms or at least one full bathroom and one half bathroom. And as a home seller, bathroom types allow you to determine exactly what the home is worth. When building or remodeling a bathroom, it gives you an idea of how much the project will cost.
How to divide bathroom types?
The principle of dividing bathroom types is based on four types of plumbing fixtures - toilet, sink, shower and bathtub. So each fixture represents a quarter of the whole, for example a full bathroom includes all four fixtures - toilet, sink, shower and bathtub - and a bathroom that includes a toilet, sink and shower is called a three-quarter bathroom (in real estate listings bathroom types are usually expressed as decimal numbers, so they are also written as 0.75 bathroom).
Depending on personal preference, there is no absolute type of combination. However, it is important to note that the toilet is almost always included as a component in all bathroom types.
Full Bathrooms
"Full bathrooms" has been described above and is the easiest to understand, that is, the bathroom contains the toilet, sink, shower and bathtub all. Most homes will have at least one full bathroom. A full bathroom is versatile and valuable, packing many functions into a relatively small space.
Three-Quarter Bathrooms
Three-quarter bathrooms have a toilet, sink, and either a separate shower or a separate bathtub.
Since more and more modern bathrooms are being built and remodeled without a tub, this third part is often the shower. And in that sense, the names three-quarter bathrooms and full bathrooms have begun to blend with each other.
Primary Bathrooms
A primary bathroom is one that is connected to the primary, or largest, bedroom in the house. A primary bathroom is also called an en suite bathroom or an attached bathroom. Typically, the primary bathroom is a full bathroom or a three-quarter bathroom.
Half Bathrooms
Half bathrooms have only one toilet and one sink. Half bathrooms are also known as powder rooms or guest bathrooms. Half bathrooms provide homeowners with more privacy because visitors can use the toilet and wash up without entering the bedroom area.
Also, since full bathrooms tend to be more of a personal space with clothing and medications that visitors never need to see these items.
Since half bathrooms are more for visitors to use for short and limited periods of time, there is usually only minimal storage space.
Quarter Bathrooms
A quarter bathroom is a small room that contains a toilet or a shower. Quarter bathrooms are often referred to as utility toilets or utility showers.

Quarter bathrooms are sometimes found in the basement or lower level of older homes. These bathrooms are often installed by the homeowner rather than by the original builder. A quarter bathroom can provide a convenient toilet or shower for a homeowner or handyman who works outside without having to walk through the house.