Outdoor
The Best Patio Umbrella Buying Guide
by Albert Lucas on Jun 18, 2022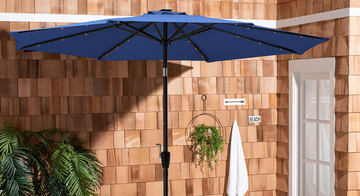 With summer approaching, it's crucial to have enough shade to keep ourselves and our guests comfortable and shielded from the sun. The Patio Umbrella appears to be the finest option.
Choosing the right patio umbrella is not easy. There are several variables to consider before purchasing it, such as your house, surroundings, budget, and preference. This guide will assist you in selecting an appropriate outdoor umbrella based on two factors: STYLE and SIZE. This knowledge will allay your fears and guarantee that you can select the best patio umbrella for you.
STYLE
When purchasing a patio umbrella, the first decision you must make is the style. The size of your outdoor area, the placement of your furnishings, and the purpose of your outdoor space will all affect the design you choose. Even after taking into account all of these factors, your own preference is the most important element to consider.
1. Center Pole Umbrella
The defining characteristic of center pole patio umbrellas is the presence of a straight pole that extends from the top of the canopy to a securing base. It may be a single, solid piece or two separate pieces that are joined together. It's important to note that center pole umbrellas may be stabilized by either a mobile or fixed base. This is the most common style of outdoor umbrella and it has been around for a long time. This type of outdoor umbrella can be effective protection against direct sunlight but reflected or diffuse ultraviolet radiation exposure from the sides diminishes the overall shade protection [Slevin 2014]
2. Cantilever Patio Umbrella
Cantilever Patio Umbrella features an arched or jointed pole positioned off to one side. The canopy is supported from the side and above, which allows it to hang freely over a variety of seating and table configurations. The main benefit of modern cantilever umbrellas is that they can shade a large area without the obstruction that a center pole causes. This is especially important if you are shading a dining table that does not have an umbrella hole or a hot tub. Many cantilevers can also rotate to provide 360° coverage, which makes them even more versatile. Offset patio umbrellas require heavier bases than center poles and are typically more expensive.
SIZE
After determining the style of the outdoor umbrella, the next step is to determine the size of the outdoor umbrella. Only the right size outdoor umbrella will bring the best experience to your life. An excellent starting point is to measure the space or table that you wish to shade. Examples can be found in the reference table below.
| | |
| --- | --- |
| Shade Area |  Umbrella Canopy |
| up to 36 inches | 7 to 8 ft |
| up to 48 inches | 8 to 9 ft |
| up to 60 inches | 9 to 10 ft |
| up to 72 inches | 10 to 11 ft |
| up to 84 inches | 11 to 12 ft |
| up to 96 inches | 12 to 13 ft |
| up to 108 inches | 13 to 14 ft |
If you want to know more about patio umbrellas, please follow our subsequent updates.