News
A Boxer? A Nurse? The Sparkling Treadmill Girl at the Tokyo Olympics Opening Ceremony and Her Olympic Dream
by LucasAlbert on Aug 04, 2021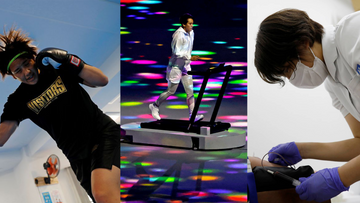 After a year-long postponement due to the coronavirus COVID-19 pandemic, the 2020 Tokyo Summer Olympics finally kicked off as scheduled on Friday, July 23, 2021, in Tokyo, Japan, through the opening ceremony. (Despite being held in 2021, it is still known as the Tokyo 2020 Summer Olympics.)
With all the competitions going on fiercely, athletes from all countries have given their best for glory and dreams, and the Olympics will come to a close in a few days on August 8. While congratulating the athletes for their good results, let's review one more highlight of the opening ceremony.
Athletes train 'apart, not alone' in Opening Ceremony intro
The full video clip can be viewed at:
https://www.nbcolympics.com/videos/athletes-train-apart-not-alone-opening-ceremony-intro
A video montage began with the moment Tokyo won the Olympic bid in 2013, followed by athletes training before images of a world silenced by the pandemic appeared.
A female athlete began to appear alone running on a treadmill in the middle of the stadium.
Two other athletes exercising on rowing machines and stationary bikes then appeared, and gradually more and more athletes and dancers lit up around her.
The show represents the "invisible bond" between the athletes, many of whom had to train alone during the COVID-19 pandemic, and the show is connected on stage by a light projection with the theme:
Apart, but not alone
. 
Treadmill Girl Stole The Show and Becomes instant Tokyo 2021 meme
While there were other athletes exercising but it was the treadmill runner who caught the world's attention after running for 10 minutes. Social media was instantly filled with topics about the treadmill girl, and netizens had very intense discussions and their own opinions about this separate treadmill moment.
Some felt a strong sense of empathy because they had all been through a lot on the treadmill; some admired her for being able to run alone on the treadmill for so long in the world's spotlight; some joked that it was the same pandemic isolation at home, she was exercising alone while they would only eat alone; and some felt ridiculous about the performance. Nonetheless, after the identity of the treadmill girl was known, it caused a bigger conversation.
Who is this Treadmill Girl? 
The runner is Arisa Tsubata, a nurse who served on the front lines of the Covid-19 battle and was training to be an Olympic boxer before the Tokyo Olympics, but also failed to qualify due to Covid-19.
Tsubata started boxing about three years ago to lose weight, but her training coach soon encouraged her to take up the sport and become a full-fledged athlete. She went on to win Japan's national boxing championship for the middleweight division in 2019. It was then that Tsubata had her Olympic dream.
Tsubata's Olympic Dream and Story
With the Olympics delayed by a year, Arisa Tsubata, a nurse, has also been training around her shift work for more than a year, preparing for the final Olympic boxing qualifiers in hopes of competing in the Tokyo Games this summer.
And to focus on boxing, the 27-year-old quit her job at a major hospital in January to take a less demanding, lower-paying position at a smaller psychiatric clinic. Since then, she has trained more than three hours a day during the week, working overtime on Saturdays and only resting or getting massages on Sundays.
But a cruel twist of fate ruined her Olympic dreams. Due to the cancellation of the Asian qualifying tournament in June due to the Covid-19 pandemic, the criteria for Olympic boxing places were changed and boxing competitions were based on ranking the top 53 boxers in the world. As a result she was denied the opportunity to represent her country at the Olympics.
"It's very disappointing, after the Olympics were postponed for a year, I've been working so hard and it's frustrating that I don't even have the right to compete." Tsubata said in an interview before the opening ceremony. And she said she would focus on her next competition, not the next Olympics in Paris in 2024.
However, her appearance at the opening ceremony has changed her mind.
"I participated in this Olympics as a performer, but I came to feel more strongly about wanting to participate in the Olympics as an athlete next time," she told Reuters outside the National Stadium.
"My goal is to win a medal. I will work hard to get a medal that has the best colour," she added.
Tsubata said she was asked to perform by the organisers in April and her gig was finalised in June after she returned from a championship in Russia. She rehearsed six times in July and kept it a closely guarded secret at the clinic and in the gym. Only her parents knew.
"I was trying to get more excited than nervous," said Tsubata, recalling the hours-long wait before performing.
The image of a Tsubota exercising alone on a treadmill at the opening ceremony resonated with many in the audience.
"Treadmill running person going nowhere for a really long time at the Opening Ceremony is basically a perfect metaphor for 2020-21," said Twitter user "StopItILoveIt".
Tsubata said she wanted to share her energy through the performance. "Not only athletes, but so many people have been through so many things over the last year, so I am hoping my performance helped them move forward - even if just a little bit," she said.
Don't give up lightly, become as shiny as Arisa Tsubata. Get the same treadmill as the opening ceremony of the Tokyo Olympics!
https://clihome.net/products/same-model-treadmill-of-tokyo-olympic-2-25-hp-electric-installation-free-folding-treadmill-with-bluetooth-speaker-and-led-display